[vc_row][vc_column][vc_column_text]Love is a way of life. Love is open. Love is undefined. Love is infinite. Love cannot be weighed. It cannot be measured. It cannot be put on a graph. Love is all-encompassing yet incalculable. 
Sometimes it will take over your whole life. It will be in every breath, in every blink, in every step, in every word, in every thought, and engulf your entire being with its intangible abundance.[/vc_column_text][vc_column_text]For me, love is my religion. It is the foundation of my church. It is the guideline of my creed. It is the song of my prayer. It does not condemn. It does not judge. It does not betray. It does not begrudge. It does not war.
When you live in alignment with love; great things happen. Love will fuel the hero and will defuse the villain. It is an endless well of spiritual and emotional nourishment. Love will forgive, heal, inspire, embrace, and transform your life.
Love is my religion.
© Steve Maraboli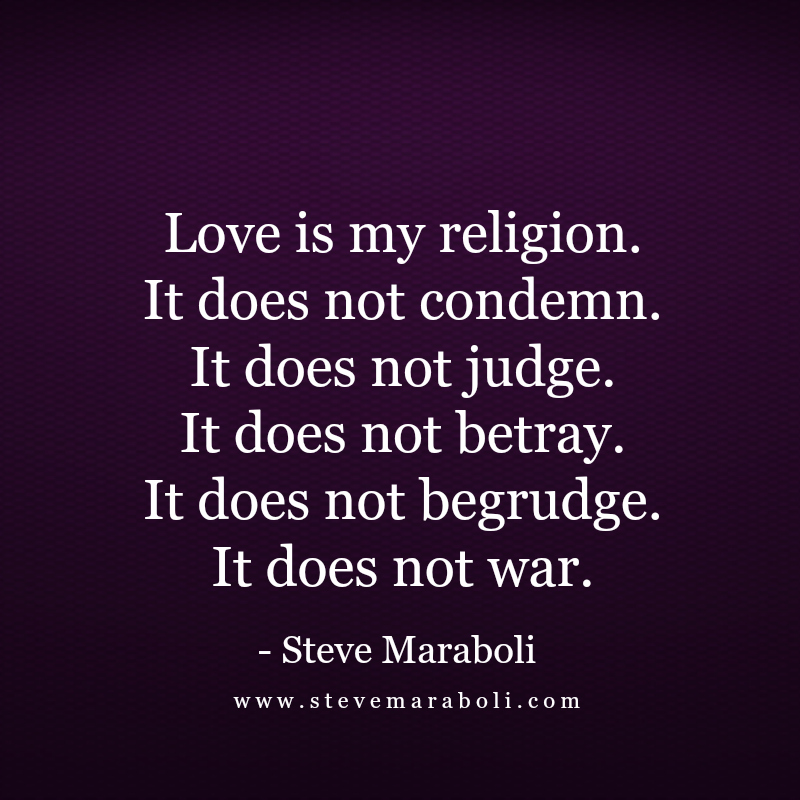 [/vc_column_text][/vc_column][/vc_row][vc_row][vc_column][vc_single_image image="6675″ img_size="medium" onclick="custom_link" link="https://www.amazon.com/Unapologetically-You-Reflections-Human-Experience/dp/0979575087″][/vc_column][/vc_row]